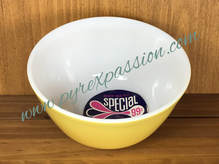 One of the fun aspects of collecting opal Pyrex is being constantly surprised when never-seen-before items are rediscovered. Some re-discovered items, like a new prototype pattern, are easy to spot for avid collectors. But some unique items are more subtle and may go unnoticed. Such is the case of this Yellow 402 Mixing Bowl with the original label.

Many things caught my eye with this item: 1) it was odd that this yellow 402 had a label attached, since the only yellow 402 was sold as part of 3-piece and 4-piece sets in the late 1950s through early 1960s and individual bowls didn't have a label, 2) the label design looked like it was from the late 60s/early 70s, and 3) the yellow color wasn't bright and vivid like the yellow on the 3-piece and 4-piece Bright Yellow sets. It was definitely an oddity. In fact, the yellow color was unique and unlike any of the other yellow mixing bowls offered by Corning throughout the years.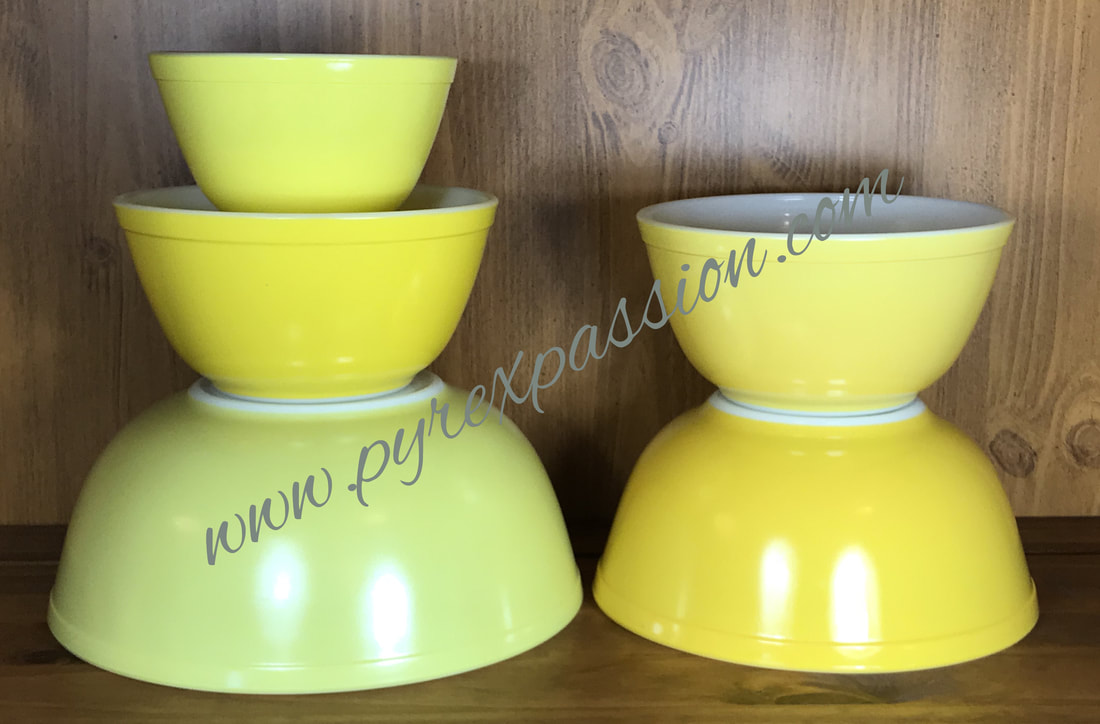 Comparison of yellow mixing bowls: left-top, Daisy 401; left-middle, Bright Yellow 402; left-bottom, Primary Colors 404; right-top, Individually Sold Yellow 402; right-bottom, Reverse Primary 403.
Dating the Bowl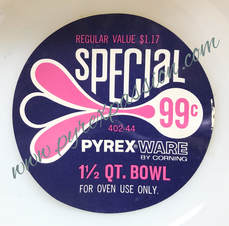 ​The original label provides the necessary clues to date the bowl to 1970.

Price - The bowl had a special price of 99 cents, but the "regular value" price was $1.17. The regular value price matches the price of the 402 bowl in replacement parts lists from 1970 Corning catalogs.

Item Number and Suffix - The item number (402) is not surprising since it's a 402 mixing bowl. However, Corning used unique suffixes to distinguish each pattern and/or color in their product line. On this bowl, the suffix is "-44" which was previously undocumented.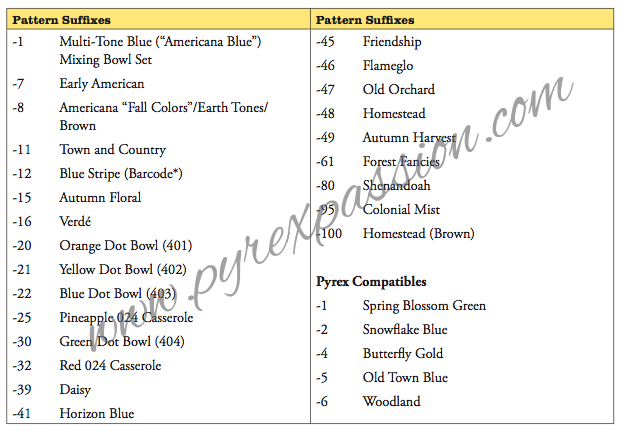 Known Pattern Suffixes from Pyrex Passion (2017 Edition): The Comprehensive Guide to Decorated Vintage Pyrex, pg. 228.
Since Corning used a progressive numbering scheme for suffixes, -44 would date the bowl's release between Horizon Blue (released in mid-1969) and Friendship (released in early 1971).
Update 1/10/2018
This item appears in numerous newspaper ads in mid/late 1970, along with an individually sold 401 bowl in the same color. In ads, the name of the color is most often referred to as "Gold" although "Yellow" is sometimes used. The items were advertised as a special "Bowl-a-Rama" promotion.