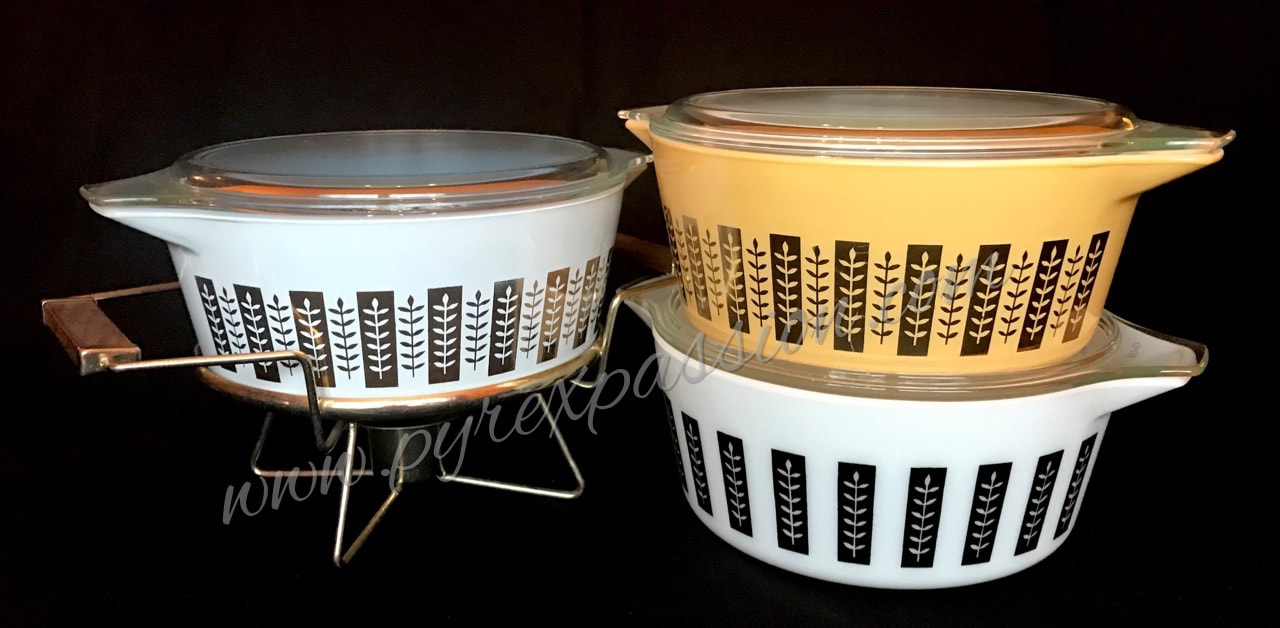 Gourmet Casseroles: Department Store version (left), Canadian version (top right), Catalog version (bottom right).
Corning produced three "Gourmet" casseroles with similar designs in the 1960s on the round 2 1/2 Qt. casserole (475). One version has been well-documented while the exact dates of production and distribution methods for the other two versions were vague and anecdotal until recently.
Gourmet Promotional Casserole (U.S.) 1961-1962
The most commonly found casserole was made in Bluebelle/Delphite Blue, rather than plain opal. The exterior was painted white with a gold stem and leaf design around the circumference (see photo above, left). The casserole included a four-legged cradle with candle-warmer and flat wooden handles. This version appears in Corning distributor catalogs and advertisements as a promotional item in late 1961 through early 1962. Officially, the casserole was named, "Gourmet Casserole 2 1/2 Qt. with Candle Warmer," Item No. 56. ​
Gourmet Black & White Casserole (U.S.) 1961-1962
A second version of the Gourmet casserole in opal with a black design is fairly easy to find, but its exact date of production and distribution method were unknown until a recent eBay seller, deepseatmac, found one new in box.

The Black and White Gourmet (Cat. #G-54J, #475-CW-P.M.) included ​a product pamphlet for Golden Honeysuckle items and the same four-legged trivet with candle-warmer as offered on the Zodiac promotional item in 1961-1962. This information accurately dates the Black and White Gourmet casserole to the same time period as the Bluebelle/Delphite Blue version.
Gourmet Yellow & Gold Casserole (Canada) 1968
The third version of the Gourmet casserole was produced in opal with a gold stem and leaf design on yellow (see topmost photo, upper right). For many years, collectors have noticed that the majority of these casseroles were found in Canada, leading most to believe this item was produced exclusively for the Canadian market even though the back stamp reads "Made in USA."

Based on recent discussions with a collector, it turns out this casserole was, in fact, available exclusively in Canada since the box was marked Corning Glass Works of Canada, LTD, Toronto, Ontario. Most surprisingly, however, were two new pieces of information that came to light.

The first surprise was that the Canadian Gourmet came with an oblong walnut serving tray rather than a cradle with candle warmer. The official name was "80 oz. Gourmet Round Casserole with Walnut Serving Tray."

The second surprise was that the Canadian Gourmet casserole was offered as a promotional item many years after the U.S. versions. The box reveals the item number for the Canadian Gourmet was 6268. Assuming the same numbering conventions were used as in the U.S., the last two digits provide the year of release as 1968.